Can Dogs Eat Cilantro?
April 18, 2023 | 3 min read
Published: April 18, 2023

Summary: "Can dogs have cilantro?" In this blog, we learn whether dogs can eat the herb cilantro and whether it's good, bad, or just OK for them. We'll also discover how to share cilantro with your dog... 
Cilantro (also known as coriander, Chinese parsley, or Mexican parsley) makes a pungent addition to many popular human dishes like dahls, tacos, and curries. It very closely resembles the flat-leaf version of parsley. For many, it tastes delicious, but to some humans, it tastes metallic or soapy! 
If you're someone who enjoys cilantro and has it in abundance in your kitchen, you may be wondering if your canine friend can enjoy some with you...

Cilantro makes a great source of magnesium, calcium, and vitamins K and C, so it may even have benefits for your pup... 
Can Dogs Have Cilantro?
Yes. Cilantro isn't toxic to dogs, but some dogs – like humans – may not enjoy the taste of it.  
Is Cilantro Bad For Dogs?
While cilantro isn't bad for dogs, it should only be fed to dogs who enjoy it in small quantities as too much of it may lead to gastrointestinal upset.  
Try to only share the leaves with your dog as the stems are harder for canine tummies to digest.  
Simply dice up the leaves of cilantro and sprinkle a small amount on top of your dog's food. 
If they're reluctant to eat cilantro, this is probably because they don't like the taste and/or smell of it. If you notice any stomach irritation (perhaps loose stools or vomiting) after eating cilantro, cease serving the herb to your dog immediately.  
Sources
Author Lowrey, Sassafras CTDI "Can Dogs Eat Cilantro?" American Kennel Club, Dec 05. 2022 https://www.akc.org/expert-advice/nutrition/can-dogs-eat-cilantro  
"Can Dogs Eat Cilantro? How To Feed Dogs Cilantro" MasterClass, Mar 22. 2022 https://www.masterclass.com/articles/can-dogs-eat-cilantro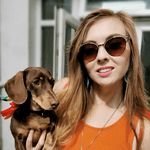 Authored By
Sarah Milton
Comes from a family of animal lovers and got to grow up with a menagerie of pets! I believe owning a pet is a privilege and I love researching and creating informative, fun content for fellow pet owners to help their furry friends have the happiest and healthiest lives. When I'm not writing blogs, you can find me sharing a walk with my pet dachshund or at a yoga class!