Can Dogs Eat Parsley?
February 15, 2023 | 3 min read
Updated February 15, 2023
Published: February 15, 2023 

Summary: Is parsley OK, safe, or bad for dogs? In this blog, we'll learn whether dogs can eat parsley and if there are any benefits to serving your pup parsley too... 
Can Dogs Eat Parsley?
As long as the parsley you feed your dog is of the curly variety, and not "Spring Parsley" or "Flat-Leaf/Italian Parsley", as these versions are toxic to dogs, then yes, your dog can eat parsley and reap benefits from it!  
It really is essential that you don't get the variety of parsley incorrect though. Spring, Flat, and/or Italian parsley contain high amounts of furanocoumarins which can lead to blindness or dermatitis in dogs. Curly parsley is the only version that is safe for a dog to consume in small amounts.  
Is Parsley Good For Dogs?
Yes! Curly parsley can be considered a great source of vitamins C, K, and A, folic acid, chlorophyll, fiber, and antioxidants while also hosting anti-microbial and anti-inflammatory properties.  
Parsley is also a diuretic – this means it aids in boosting urine production – which in turn can help improve the body's processing of toxins via waste.  
Parsley is also touted to help improve a dog's breath, boost immunity, promote cellular health and support brain and muscle functioning.   
How Much Parsley Can I Give My Dog?
You should only feed your dog the curly variety of parsley and only in small, controlled amounts. Too much curly parsley can lead to kidney problems due to it being a diuretic. You should also avoid feeding curly parsley to pregnant dogs, as it can lead to delivery complications.  
You can simply sprinkle a small amount of cut-up curly parsley on top of their food, or you could make parsley tea. Take a bunch of fresh, curly parsley for every 1l of water and bring it to a boil. Once it's boiled, let the tea sit covered for up to 4 hours. You can then add one teaspoon per 10 lbs of body weight of cooled tea to their bowl.  
Sources
"Can Dogs Eat Parsley? Risk & Benefits Of Parsley For Dogs" MasterClass, Jun 16. 2022 https://www.masterclass.com/articles/can-dogs-eat-parsley  
"The Incredible Benefits Of Parsley For Your Pet" Redbarn, Feb 16. 2016 https://www.redbarn.com/blogs/blog/the-incredible-benefits-of-parsley-for-your-pet  
"Benefits of Parsley for Your Dog" Wag Walking https://wagwalking.com/wellness/benefits-of-parsley-for-your-dog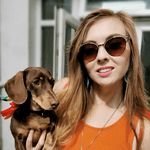 Authored By
Sarah Milton
Comes from a family of animal lovers and got to grow up with a menagerie of pets! I believe owning a pet is a privilege and I love researching and creating informative, fun content for fellow pet owners to help their furry friends have the happiest and healthiest lives. When I'm not writing blogs, you can find me sharing a walk with my pet dachshund or at a yoga class!