Plants That Are Toxic To Dogs
September 26, 2022 | 3 min read
Summary: If you're wondering "what plants are toxic to dogs?", in this blog we'll learn just that! Discover which plants are poisonous for dogs and what the dog-friendly plants are too so you can be sure your apartment plants or those in your yard are safe for your canine… 
Is it possible to be both a pet parent and a plant parent? We've all met a curious dog who likes to explore the world with their mouth - but aren't some plants toxic to dogs? Well, yes!
So, if you're thinking about adorning your apartment with florals or greenery, or you're fixing up your yard with some impressive flowers and planters, it's probably worth knowing which plants are poisonous to dogs…
Poisonous Plants For Dogs
The list below details common household or garden plants that may pose a threat to your dog's health and wellbeing, and are worth avoiding having around - and keeping in - your home:
Rhododendrons
Hydrangeas
Lily of the Valley
Peonies
Primroses
Crocuses
Tulips
Amaryllis
Iris
Azaleas
Carnations
Chives
Eucalyptus
Gladiola
St. John's Wort
Periwinkles
Sweet Peas
Wisteria
Figs
Rhubarb
Yew
Please note that this list is not extensive and it only includes the most common plants you may find in your neighborhood or home. For a full list of plants known to be toxic to dogs, check out The American Society for the Prevention of Cruelty to Animals' (ASPCA) list here.
Dog-Friendly Plants
The plants listed below, you can keep in your home or yard without any worry of hurting your pup (even if they do decide to try the plant for themselves!)
Fuchsias
Basil
Snapdragons
Bamboo
Camelias
Marigolds
Orchids
Pampas Grass
Roses
Sage
Rosemary
Venus Fly Traps
Strawberries
Cilantro
Fennel
Hibiscus
Jasmine
Lilies
Money Trees
Petunias
Sources
"Toxic And Non-Toxic Plant List" ASPCA https://www.aspca.org/pet-care/animal-poison-control/dogs-plant-list
Author Taffer, Marissa "Tips For Planting A Dog-Friendly Garden" Dog Eared by My Ollie, May 13. 2022 https://blog.myollie.com/tips-for-planting-a-dog-friendly-garden/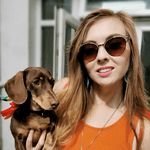 Authored By
Sarah Milton
Comes from a family of animal lovers and got to grow up with a menagerie of pets! I believe owning a pet is a privilege and I love researching and creating informative, fun content for fellow pet owners to help their furry friends have the happiest and healthiest lives. When I'm not writing blogs, you can find me sharing a walk with my pet dachshund or at a yoga class!