Can Dogs Have Cinnamon?
October 26, 2022 | 3 min read
Updated September 25, 2023
Summary: If you're wondering "can dogs eat cinnamon?", you're in the right place, pet parent! In this blog, we'll explore whether cinnamon is good or bad, toxic or safe for dogs to eat. And, are there any benefits to feeding your dog cinnamon...? 
Cinnamon is sourced from the inner bark of Cinnamomum trees, which are a genus-species of tree. It has a very sweet but bitter vanilla-like smell and makes for a popular ingredient over the winter season! But, can our dogs have cinnamon...? 
Can Dogs Have Cinnamon?
Cinnamon is not toxic for dogs to consume, but only in moderated amounts. Too much cinnamon can cause irritation of the mouth and gastrointestinal upset in doggos. 
Is Cinnamon Good For Dogs?
Cinnamon contains cinnamaldehyde which is thought to provide a host of health benefits for both humans and canines alike.  
It's touted to have anti-fungal properties, anti-inflammatory properties and is known to be rich in antioxidants.  
There have also been scientific studies on the effects of cinnamon in canines too! 
This study found that dogs with high blood pressure and high heart rates who were fed controlled and small amounts of cinnamon ended up experiencing a lower heart rate and systolic blood pressure. 
A different study conducted in humans found that when cinnamon is consumed regularly in small amounts it can help lower blood glucose levels and lower the body's resistance to insulin. Because of this, even though this study took place in humans, it would be advisable that if your dog has diabetes it's probably worth a conversation with your vet before offering them cinnamon! 
Will Cinnamon Hurt Dogs?
In small amounts, cinnamon shouldn't cause your dog discomfort. Half a teaspoon of cinnamon powder sprinkled over food every now and then should be well received by a dog. Or a small drop or two of cinnamon oil.  
However, in larger quantities – for example, if your dog gnaws on a whole cinnamon stick – this may cause oral irritation, choking, coughing or difficulty breathing – similarly to how it does in humans if we eat a large spoonful of the stuff! 
If your dog experiences diarrhea, vomiting, low blood sugar or a change in their heart rate though, these can all be signs of a cinnamon overdose and they should be seen by a vet urgently.   
Can Dogs Have Nutmeg?
Nutmeg, although derived from the same plant as cinnamon, isn't as safe for your dog. It is best to avoid nutmeg when it comes to feeding your furry friend. In incredibly small quantities, it shouldn't harm your dog but even a teaspoon of nutmeg can cause your dog to become disorientated and drowsy. Nutmeg can even cause seizures and hallucinations in a dog... 
Can Dogs Eat Cinnamon Rolls?
No, but not because of the cinnamon. Products like cinnamon rolls are typically high in fat and sugar and can additionally contain artificial sweetener (xylitol), chocolate and raisins which are toxic for dogs. These foods can also contribute to obesity, pancreatitis, and unnecessary stomach upsets.  
Can Dogs Eat Cinnamon Applesauce?
Most store-bought applesauce contains additives like artificial sweetener (xylitol) and excessive amounts of sugar which are both unwelcome news for a dog. However, dogs can eat apples and cinnamon in moderated quantities, but it is worth avoiding pre-made applesauce. 
Sources
Author The Endocrine Society "Cinnamon May Improve Blood Sugar Control In People With Prediabetes" Science Daily, July 21. 2020 https://www.sciencedaily.com/releases/2020/07/200721102143.htm  
Author Kaffash Alahi, Ramin "The Effect of the Cinnamon on a Dog's Heart Performance by Focus on Korotkoff Sounds" Journal Of Animal & Veterinary Advances, 2012 https://medwelljournals.com/abstract/?doi=javaa.2012.3604.3608  
Author Guthrie Lynn, "Can Dogs Eat Cinnamon? Yes, If You Weigh The Risks?" Prrs & Wags by Pumpkin, Feb 28. 2022 https://www.pumpkin.care/blog/can-dogs-eat-cinnamon/  
Author Burke, Anna "Can Dogs Eat Cinnamon?" American Kennel Club, Mar 27. 2017 https://www.akc.org/expert-advice/nutrition/can-dogs-eat-cinnamon/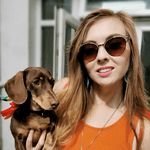 Authored By
Sarah Milton
Comes from a family of animal lovers and got to grow up with a menagerie of pets! I believe owning a pet is a privilege and I love researching and creating informative, fun content for fellow pet owners to help their furry friends have the happiest and healthiest lives. When I'm not writing blogs, you can find me sharing a walk with my pet dachshund or at a yoga class!