The Benefits Of Apple Cider Vinegar For Dogs
July 20, 2022 | 3 min read
Published: July 20, 2022
Updated: October 11, 2022
Summary: In this blog, we learn all about apple cider vinegar for dogs and whether they can have it or reap any benefits from it…
Many pet parents nowadays are seeking to try at-home ideas to help boost their dog's health – and apple cider vinegar is the talk of the town. It's thought to work as a pH balancer which can soothe skin, support a normal inflammatory response in the body, and promote healthy digestion.
Apple cider vinegar is made when apples are fermented which results in an acidic vinegar that contains primarily acetic, but also lactic, citric, and malic acids. There are not a lot of scientific studies on the benefits of apple cider vinegar for dogs, so it's difficult to share concrete evidential benefits, but many puppy parents have touted them from personal experience…
Is Apple Cider Vinegar Good For Dogs?
Apple cider vinegar is thought to:
Positively influence occasionally itchy skin 

and ears

due to yeast overgrowth

Improve dandruff

Help with

dog burping/excess gas

Support bladder health

Boost gastrointestinal health

Help with oxidative stress associated with obesity in dogs
Apple cider vinegar is slightly acidic, and scores on the pH scale between 3.1 and 5 so a dog with a non-optimal pH level in their body may benefit from ingesting diluted apple cider vinegar  (50/50 with water). It is said that an optimal pH range for a dog is anywhere between 6 and 7, which can be measured via their urine or blood sample via your vet.
Apple cider vinegar is also thought to also possess bacterial balancing properties.
Apple Cider Vinegar For Dog's Skin & Paws
Dogs who experience occasional itchy skin and/or paws or those who go through bouts of dandruff may benefit from apple cider vinegar when bathed in a diluted form of it or sprayed with a diluted version of it. The acidity of the apple cider vinegar can help balance the pH of your pup's skin, while it's bacterial balancing properties may help sensitive skin.
Always spot test your dog with a tiny amount of diluted apple cider vinegar 24 hours in advance of bathing them in a diluted ACV bath to check they won't have an allergic reaction to it. Remember to always dilute apple cider vinegar, 50/50 with water before using it on a dog, and avoid hot spots/open sores or cuts your dog might have. 
Some pet parents swear that apple cider vinegar deters fleas too, so spray their dogs with a diluted ACV mixture before they go out on a walk!
Apple Cider Vinegar For Dog's Ears
As with a dog's skin, apple cider vinegar may help with yeast overgrowth around the ears due to its alleged pH balancing properties. Although it's absolutely not advised to put apple cider vinegar solution directly into a dog's ear canal, you can soak a cotton ball in half water, and half apple cider vinegar and then just gently wipe around the ears.
Again, as above, do not put an apple cider vinegar on very sore skin or open wounds/cuts as this may cause discomfort to your pooch, and do a spot test 24 hours in advance.
Apple Cider Vinegar For Dogs
You can purchase liquid apple cider vinegar from most grocery stores and health stores. Raw, unpasteurized, and organic versions of apple cider vinegar are usually best. 
To make your own spray or to use topically on your dog, you should always mix apple cider vinegar 50/50 with water (so if you use 200ml of ACV, this should be mixed with 200ml of clean, fresh water). Avoid your dog's eyes and any open sores, cuts, or wounds when using a diluted apple cider vinegar mixture topically on your pooch, whether spraying them or bathing them.
It's worth noting that if you overuse apple cider vinegar on your dog, some dog's skin may actually become dry and irritated, so make sure to only apply it when needed.
If you're hoping to promote your dog's gastrointestinal and digestive health, you could try adding some apple cider vinegar to their water bowl once to twice a day. 1 tsp for dogs up to 15lbs, 2 tsp for dogs 16 to 35lbs, and 1 tbsp for dogs 36lbs to 84lbs. You must never give undiluted apple cider vinegar directly to your pup to drink.
If your dog is facing an issue that can lead to a more acidic pH level in your dog's body, giving apple cider vinegar to your dog orally is usually not advised. Don't forget to check in with your veterinarian before any change in your dog's diet.
Sources
Author Woodley, Katie DVM "Apple Cider Vinegar For Dogs: Benefits & Uses" Great Pet Care, Dec 01. 2020 https://www.greatpetcare.com/wellness/apple-cider-vinegar-for-dogs/
Author Chittenden, Brett "Top Benefits Of Apple Cider Vinegar For Dogs" Dogs Naturally Magazine, Feb 16. 2022 https://www.dogsnaturallymagazine.com/3-simple-ways-apple-cider-vinegar-can-help-your-dog/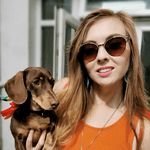 Authored By
Sarah Milton
Comes from a family of animal lovers and got to grow up with a menagerie of pets! I believe owning a pet is a privilege and I love researching and creating informative, fun content for fellow pet owners to help their furry friends have the happiest and healthiest lives. When I'm not writing blogs, you can find me sharing a walk with my pet dachshund or at a yoga class!