Can Dogs Eat Tomatoes?
January 17, 2022 | 3 min read
Summary: "Can dogs have tomatoes?" In this blog, we learn whether dogs can eat tomatoes or not and if tomatoes are bad or good for dogs to consume… 
Can Dogs Have Tomatoes?
Yes and no. We can see why it's tempting to introduce your dog to tomatoes. Red, ripe, raw tomatoes are super high in nutrients like lycopene, beta carotene, vitamin a, folate, vitamin c, and potassium which can all contribute to a dog's good health. They're also full of fiber and low in calories. 
A dog, generally, can eat red, raw, ripe tomatoes, but only if they have been removed from their stem, vines, and leaves and are administered in small quantities. This is where a tomato's safety stops in dogs. 
Can Dogs Have Tomato Sauce?
No. Tomato sauces like pasta sauce and ketchup usually contain garlic, onion, and artificial sweetener (xylitol) which are all incredibly toxic to dogs. 
Can Dogs Have Tomato Soup?
Again, no. These can contain not only the above threatening ingredients but can also be very high in sodium (salt) which isn't great for your pet's hydration levels and can lead to salt poisoning if consumed in large quantities. The same goes for tomato juice.
Are Tomato Plants Toxic To Dogs?
Tomatoes are part of the nightshade family. This means the green parts of them, like an unripened tomato when it's green, their stems, leaves, and vines are toxic to dogs. 
These parts of a tomato plant contain a substance called solanine. When solanine is eaten in large quantities by a dog, this can be poisonous and may cause them harm. 
This is more of a threat to your dog if you grow your own tomatoes, own a tomato plant, and have a curious dog who likes to taste things in your yard. 
Symptoms Of Tomato Poisoning In Dogs
If your dog has consumed a green part of a tomato plant, clinical signs of tomato poisoning in dogs include:
An abnormal heart rate
Vomiting
Diarrhea
Lethargy
Confusion
Gastrointestinal upset
Tremors
Seizures
Muscle weakness
Please note that these symptoms are rare, but if you see them or suspect your dog has consumed any of the green parts of a tomato plant, make sure you get your dog to a vet as soon as possible. 
Regardless of whether they've eaten tomato plant parts or not, these symptoms and signs can also be indicative of other health conditions. Any changes in your dog's disposition should always be checked over by a qualified, professional veterinarian.
Why Not Try These Vegetable Alternatives?
So, as we've established, ripe, red, raw tomatoes are OK to give your dog in small quantities. However, there are a host of other vegetables that can play a great role in your doggy's diet and help boost their vitamin and fiber intake! Try feeding your dog small bits of cucumber, carrots, or green beans either as treats or add them to their bowl at mealtimes. These veggies are totally safe for dogs to eat.
If you want to feed your dog tomato or anything new, always consult with your vet and obtain their approval.
For your reference, here's a list of other foods that can be incredibly toxic to dogs…
Sources
Author Anna Burke "Can Dogs Eat Tomatoes?" American Kennel Club, 17 Jun. 2016 https://www.akc.org/expert-advice/nutrition/can-dogs-eat-tomatoes/
Author Mike Clark "Can Dogs Eat Tomatoes? Are Tomatoes Safe For Dogs?" Dog Time https://dogtime.com/dog-health/dog-food-dog-nutrition/59085-can-dogs-eat-tomatoes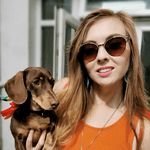 Authored By
Sarah Milton
Comes from a family of animal lovers and got to grow up with a menagerie of pets! I believe owning a pet is a privilege and I love researching and creating informative, fun content for fellow pet owners to help their furry friends have the happiest and healthiest lives. When I'm not writing blogs, you can find me sharing a walk with my pet dachshund or at a yoga class!