The Health Benefits Of Walking Your Dog
June 21, 2022 | 3 min read
​​
Published: June 21, 2022
Updated: October 11, 2022

Summary: In this blog, learn about the benefits of taking your dog for a walk. And, spoiler alert… The health benefits of walking your dog exist not only for your pup, but for you too!

Are Walks Good For Dogs?
Walking a dog every day, or making sure they're exercised in some way daily, is an essential part of dog ownership. It benefits their health and long-term wellbeing in numerous ways…
It helps maintain their weight by burning calories, and thus prevents obesity

It maintains their agility and keeps them limber for longer

It promotes muscular strength and flexibility

It helps them feel less stressed

It diminishes the likelihood of destructive behavior

It boosts their urinary health

It reduces boredom

It reduces feelings of loneliness

It betters their sleep quality

It betters their social skills with other dogs and people

It provides ample mental stimulation (there are so many things to sniff and explore on a walk!)

It can boost their confidence

Dogs are creatures of habit, and a daily walk around the same time and of similar length provides them with a sense of structure and stability
The Health Benefits Of Walking Your Dog
A lot of the health benefits your dog can reap from a daily walk, you can reap too. 
With nearly 75% of adult Americans classed as being overweight or obese, and over 50% of America's dogs being categorized as being obese or overweight too, we do clearly have an evident weight problem here in the USA. Obesity has been proven to have a knock-on effect on other health conditions (like diabetes and heart disease) and risks (like cancer) too. 
The average adult (according to the World Health Organization) should engage in moderate activity for at least 30 minutes a day to help keep their weight down and to help promote their overall health status. And, walking a dog can help that!
According to VCA Hospitals, in a 2008 study based in Seattle and Baltimore, adults who regularly walked their dogs were less likely to be obese than other non-dog-owning members of their community. 
Walking your dog – in addition to many of the perks your dog gets from walking listed above – can also benefit you by:
Improving your cardiovascular fitness

Boosting your mental health and decreasing stress

Promoting your muscle and bone strength

Reducing your blood pressure

Helping improve your sleep quality

Helping with weight loss and management

Increasing the opportunity to meet other members of your community
Are Long Walks Good For Dogs?
Different dog breeds need different lengths and styles of exercise. You can check out how much your dog most likely needs daily by using our handy PetLab Co. infographic below:
If you're unclear on how much exercise your dog needs, do consult with your veterinarian who will be able to advise. 
The occasional walk that is longer than your dog's breed technically requires should be absolutely fine as long as you're not over-exercising them every day.
Before you walk, make sure your dog is properly equipped with a well-fitting harness, collar, and leash and that they're suitably tagged and microchipped. Make sure to bring poop bags with you on your walk so you can pick up and properly dispose of their mess, and always pack a source of fresh, clean water to offer your dog after their walk. 
If the weather is adverse (too hot, too wet, or too cold) for a walk, there are alternative ways to stimulate and exercise your dog so they don't go a day without reaping the amazing benefits of exercise.
Sources
Author Williams, Krista BSc, DVM, CCRP and Buzhardt, Lynn DVM "The Benefits Of Walking Your Dog" VCA Hospitals https://vcahospitals.com/know-your-pet/the-benefits-of-walking-your-dog
"5 Reasons To Walk Your Dog Everyday" Puppy Leaks, Apr 21. 2022 https://www.puppyleaks.com/walk-your-dog-every-day/
"4 Benefits Of Walking Your Dog" Blue Cross Veterinary Hospital https://bluecrossvethospital.com/4-benefits-walking-dog/
"6 Scientific Benefits Of Dog Walking: Your Dog Will Thank You" Whiskers To Tails Petsitting, Mar 15. 2020 https://whiskerstotailspetsitting.com/2020/03/benefits-dog-walking/
"Dog Walking - The Health Benefits" Better Health Channel https://www.betterhealth.vic.gov.au/health/healthyliving/dog-walking-the-health-benefits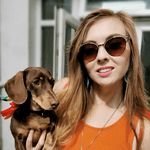 Authored By
Sarah Milton
Comes from a family of animal lovers and got to grow up with a menagerie of pets! I believe owning a pet is a privilege and I love researching and creating informative, fun content for fellow pet owners to help their furry friends have the happiest and healthiest lives. When I'm not writing blogs, you can find me sharing a walk with my pet dachshund or at a yoga class!