What Are The Dog Breed DNA Testing Benefits?
April 26, 2022 | 3 min read
Published: April 26, 2022
Updated: October 11, 2022

Summary: If you're wondering what the benefits are to dog DNA testing, in this blog we learn just that. So, why should you be getting a dog breed DNA test for your dog…?
The Benefits Of Dog Breed DNA Tests
A dog DNA test can help determine lots of helpful information for pet parents and veterinarian professionals alike, and not just prove breed heritage although this is useful to know!
According to Wisdom Panel, even experts misidentify a dog's breed around 75% of the time when relying on visual cues only! 
If you've rescued a dog from a shelter or bought a puppy from a breeder and you're unsure of the authenticity of the information they provided about your new doggo, a DNA test can help reveal your dog's true breed identity which in turn can unlock a lot of other useful information.
So, what are the benefits of a dog DNA test?
Helps Improve Their Quality Of Life
Knowing your dog's true breed can help you determine how much food they need to eat, and how much exercise, enrichment and mental stimulation they actually require. This can help manage your expectations of them and your anticipated lifestyle with them, and can also help you apply and provide the pet parent care and attention they really need. 
Helps Identify Personality Traits
A dog's personality is often influenced by breed disposition as well as how much love, care and affection they receive. A DNA test can tell you a lot about what to expect from a pup's behavior and thus you (or your employed, well-vetted dog behaviorist) can adopt a training plan that is more tailored to their breed's needs. 
Can Boost And Personalize Their Health Care
Certain breeds can carry disease-causing genetic mutations, so knowing if your dog is a carrier of any of these can aid your veterinarian in knowing how to prevent these conditions from developing in your pet. 
For example, if there is evidence that your dog is going to be predisposed to a joint condition like hip dysplasia because of a breed predisposition apparent in their DNA, your vet can suggest preventative dietary supplements and the appropriate preventative management needed at home. 
Another example would be when it comes to herding breeds. Dog types such as Border Collies or Shepherds can often carry a mutation known as MDR1 (or ABCB1) which can increase the likelihood of adverse reactions to some very commonly prescribed veterinary drugs and medications. This can be invaluable information for a vet treating a furry patient with this mutation.
How Dog DNA Tests Can Further Help The Community
A dog breed DNA test can be helpful outside the home too…
Helps Shelters Re-Home Surrendered Dogs
Some breeds struggle to be re-homed because of how they look or the social reputation they have. If a shelter can be clear on what breed a dog actually is, the more likely they'll be able to source a suitable home for an unwanted fur baby. 
Helps Reunite Lost Or Stolen Pets
If a dog has out-of-date information on their tag, hasn't been microchipped or is without any identification at all doesn't necessarily mean they don't have an owner. A DNA test can help with tracking down and matching a pet with their true family.
Helps Identify Pet Parents Who Are Adverse To Scooping Poop
Several housing complexes and municipalities across the United States keep genetic samplings of their canine residents. This is in order to match up any poop left on the sidewalk with the owners' responsible who are choosing not to pick up their pup's waste and issuing fines accordingly.
How Much Does A Dog DNA Test Cost?
A reputable, reliable dog DNA test can cost anywhere between $60 to $90 and are available online or in most pet stores.
Sources
Author Hughes, Angela DVM, PhD "Lifelong Benefits Of DNA Testing Your Dog" Wisdom Panel, Jan. 29 2020 https://www.wisdompanel.com/en-us/blog/dog-dna-testing-benefits
"The Hidden Benefits of DNA Testing for Dogs", Pet MD, Mar. 07 2016 https://www.msdvetmanual.com/toxicology/food-hazards/raisin-and-grape-toxicosis-in-dogs?redirectid=443
Author Grice, Hannah "DNA Testing And It's Benefits", Dog Listener https://www.doglistener.tv/2017/08/dna-testing-and-its-benefits/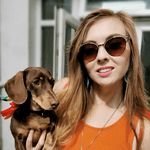 Authored By
Sarah Milton
Comes from a family of animal lovers and got to grow up with a menagerie of pets! I believe owning a pet is a privilege and I love researching and creating informative, fun content for fellow pet owners to help their furry friends have the happiest and healthiest lives. When I'm not writing blogs, you can find me sharing a walk with my pet dachshund or at a yoga class!