Fiber Foods For Dogs
April 04, 2022 | 3 min read
Published: January 11, 2022
Updated: April 4, 2022
Summary: In this blog, we learn all about how to boost the fiber in your dog's diet! We'll find out what foods you can introduce to their diet to boost their fiber levels and why fiber is so important. Read on to find out more about fiber foods for dogs…
Fiber is a complex carbohydrate that contributes to the health of the gut. It is available in two forms: digestible and indigestible (or soluble and insoluble). 
Digestible (soluble) fiber is easily broken down into simple molecules that are then feasted on by good, essential, commensal bacteria in the gut. Indigestible (insoluble) fiber may not be as nutritionally rich, but is great for helping clean mucus membrane in the digestive tract and helps massage the gut. 
Fiber ensures a healthy digestive tract in both humans and dogs alike. It helps keep bowel movements smooth and frequent, helps to regulate blood pressure, aids weight management, boosts the immune system, promotes colon health, and can even help manage and maintain blood sugar levels.
An ideal dog's diet should contain between 2-5% fiber (but shouldn't really exceed 10%). However, it's argued that many dogs don't get enough fiber in their diets. If a dog has occassional gastrointestinal trouble, a good boost of fiber may be very beneficial to them…
So, what can you safely feed your dog to give them a little boost of fiber in their diet?
How To Add Fiber To A Dog's Diet
Carrots
Small pieces of cut-up carrot make great, low-calorie, fiber-loaded treat replacements! A carrot's nutritional content can also help the health of your dog's kidneys and liver, too. Most dogs really enjoy the flavor of carrots as well. You can serve small portions of carrot to your dog washed and raw or cooked.
Blueberries
Not only is a handful of washed blueberries a good source of fiber food for dogs, but they're also packed with antioxidants which helps support a normal inflammatory response - a great nutritional bonus. The same goes for strawberries and raspberries. Just be sure to limit how many berries you give your dog as berries can be fairly dense in natural sugar, which isn't good for a dog to consume too much of. Too much sugar is bad for their teeth and can lead to unnecessary weight gain.
Apple
A medium apple contains about 3 grams of fiber. A few slices of apple here and there can be a wonderful, tasty and fibrous addition to your dog's daily diet. Just be sure not to feed them the core or seeds, as these parts of the apple are not good for doggies and can be toxic! 
Brown Rice
Despite grain-free diets becoming increasingly popular amongst pet parents, brown rice is a great source of fiber for dogs. Try serving your dog a cup of brown rice and lean, grilled chicken for a tasty, fiber-packed dinner once in a while.
PetLab Co. Pro Tip: You should avoid brown rice if your dog is experiencing diarrhea - white rice is better for them in this instance.
Cooked Sweet Potato
Boiled or steamed sweet potato can be a great addition to a dog's diet. Simply mash it after cooking and add a handful to your dog's main meal. Not only is sweet potato packed with fiber, they also boast good levels of vitamin C, A, potassium, iron and essential antioxidants which are all equally beneficial to your dog's body and health. Plus, sweet potatoes are low in fat!
Green Beans
Steamed, boiled, raw, or canned - doggies love green beans as an addition to their meal or as a reward for good behavior! They're dense in fiber and play host to a variety of other great nutrients like iron, protein, calcium, and vitamins B6, K, A, and C. They're also low in calories.
However, make sure to avoid canned green beans with added salt, and don't serve your dog green beans that have been cooked with onion or garlic as onion and garlic can be toxic to dogs. Always make sure you chop up your green beans too, as whole green beans can pose a choking hazard to our four-legged friends.
To be sure you're not feeding your dog anything that can harm them, check out our list of foods that are toxic to dogs:
Sources
Author Jones, Tori BA "High Five To High Fiber!" Burns Pet, May 05. 2017 https://burnspet.co.uk/nutrition-blog/the-best-high-fibre-foods-for-dogs/
Author Phillips April, Jen "10 Great Sources Of Fiber For Dogs" Great Pet Care, Sep 26. 2020 https://www.greatpetcare.com/dog-nutrition/10-great-sources-of-fiber-for-dogs/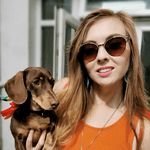 Authored By
Sarah Milton
Comes from a family of animal lovers and got to grow up with a menagerie of pets! I believe owning a pet is a privilege and I love researching and creating informative, fun content for fellow pet owners to help their furry friends have the happiest and healthiest lives. When I'm not writing blogs, you can find me sharing a walk with my pet dachshund or at a yoga class!