Can Dogs Eat Eggplant?
March 20, 2023 | 3 min read
Published: March 20, 2023

Summary: In this blog, we'll learn whether dogs can have eggplant and if this deep-purple vegetable has any benefits for canines if so... 
Eggplant (known as "aubergine" across the pond!) is a vegetable that grows in an array of sizes and colors, but is most recognized when it's hosting its deep-purple skin.  
Eggplant is a popular ingredient in stews and dishes like Greek moussaka. It's also a member of the nightshade family which also includes tomatoes. But, can dogs eat eggplant...? 
Can Dogs Have Eggplant?
In moderation, yes. However, while eggplant is technically "safe" for dogs, it should only be shared with them unseasoned and plain, in small amounts, and only occasionally. It should also be chopped into small pieces to prevent them from choking on it.  
Eggplant For Dogs
Eggplant is loaded with antioxidants, fiber, potassium, and vitamins K, B1, and B6 which can all benefit your dog, but in large quantities, it can trigger a toxic reaction due to the oxalates that are present in this purple veggie too. So, make sure you keep portion sizes very low!  
PetLab Co. Pro Tip: Oxalates can pose a big problem for dogs with kidney issues, so if your dog has kidney disease or a renal condition like kidney stones, do not feed them eggplant. Unfortunately, it can also exacerbate joint conditions, so if your dog experiences these it is also worth avoiding eggplant.  
It's also possible for some dogs to be sensitive to eggplant - it can cause some dogs to develop temporary itchy skin so always be mindful of this and start them off with a minimal amount of eggplant and monitor them before continuing with more. This really should go for all new food introductions though! 
Your dog can eat pieces of raw or cooked eggplant. They should not be fed the leaf or the stem of the plant as this part can be poisonous for dogs.  
If serving cooked pieces of eggplant to your pup, make sure it is seasoning-free (including salt and pepper) and not overloaded with oil.  
Sources
"Can Dogs Eat Eggplant? Tips For Feeding Eggplants For Dogs" MasterClass, 17 Jun. 2022 https://www.masterclass.com/articles/can-dogs-eat-eggplant  
Author Miller, Andrew MRCVS "Can Dogs Eat Aubergine?" Pure Pet Food https://www.purepetfood.com/help/can-dogs-eat-aubergine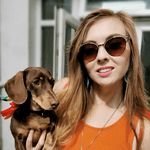 Authored By
Sarah Milton
Comes from a family of animal lovers and got to grow up with a menagerie of pets! I believe owning a pet is a privilege and I love researching and creating informative, fun content for fellow pet owners to help their furry friends have the happiest and healthiest lives. When I'm not writing blogs, you can find me sharing a walk with my pet dachshund or at a yoga class!