Is Edamame Good For Dogs?
January 27, 2023 | 3 min read
Published: January 27, 2023

Summary: "Can dogs have edamame?" Learn whether edamame is good for dogs and whether you should feed edamame to your dog here... 
Can Dogs Eat Edamame?
Edamame is an immature soy bean; a legume and as an occasional treat, a dog can have the odd, unseasoned edamame – but only if the shells have been removed.  
Is Edamame Good For Dogs?
Edamame beans are packed with healthy polyunsaturated fats, omega-3 fatty acids, high levels of fiber, protein (a half-cup serving of shelled edamame beans contains around 9g of protein), and vitamin C, so yes, edamame does arguably have multiple health benefits.  
However, edamame also contains soy which can be an allergen for some dogs so it's always advisable to start with small servings and monitor for reactions before feeding them plain edamame beans more regularly.  
The edamame shells shouldn't be served to your dog either. These can be difficult for your dog's body to digest and pose a choking hazard – particularly to smaller breeds. You should only offer your pup plain, shelled edamame beans.  
In addition, you should avoid edamame beans that have been flavored or seasoned with things like salt, garlic, or spices which can pose a toxicity risk and/or lead to dehydration.  
Edamame And Dogs
Plain edamame beans should only be offered to a dog in moderation. Too many can lead to excess gas and in extreme cases lead to bloat. Bloat can be fatal for dogs as it can result in the stomach twisting – any signs of bloat in a dog is a matter of emergency and they will need to see a vet ASAP. 
You can prepare your plain, shelled edamame beans via steaming or baking, whole or mashed, or you can serve them raw. Simply add a teaspoon or so to their main meal or offer them as a treat.  
Sources
"Can Dogs Eat Edamame?" MasterClass, Mar. 22 2022 https://www.masterclass.com/articles/can-dogs-eat-edamame  
"Can Dogs Eat Edamame?" Purina https://www.purina.co.uk/articles/dogs/feeding/what-dogs-eat/can-dogs-eat-edamame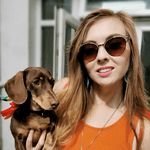 Authored By
Sarah Milton
Comes from a family of animal lovers and got to grow up with a menagerie of pets! I believe owning a pet is a privilege and I love researching and creating informative, fun content for fellow pet owners to help their furry friends have the happiest and healthiest lives. When I'm not writing blogs, you can find me sharing a walk with my pet dachshund or at a yoga class!