Dog Car Safety: What You Need To Know
May 13, 2021 | 3 min read
Published: May 13, 2021
Updated: March 20, 2022
Summary: In this blog, we learn all about how to keep a dog safe in a car. We'll discover what equipment you need, how to secure your dog in the car, and how to help a dog with car sickness. Read on to find out more about car safety for dogs…
Whether you're venturing down the road to the dog park, going across the state to visit family, or going on vacation, securing your dog properly in the car as you would yourself or your human travel buddies, is essential for their safety.
How To Secure Dog In Car
Dog Car Harness, Crate Or Seatbelts
To ensure car safety, you need to buckle up your pup as you would yourself and there are lots of options to choose from. You can get a dog car crate, a dog hammock, or a barrier between the front and back of the car made of mesh. However, this doesn't secure them efficiently if you're required to make an emergency brake or there is a collision. In some scenarios, these items could injure both of you.
The most popular choice is a dog car harness and seatbelt. These attach to your dog and lock into a seatbelt buckle which helps them maintain the ability to move, but keeps them secure in their seat. Make sure to do your research into good brands which are reputable and recommended, and that you purchase the correct size that correlates with your dog's size, weight, and breed.
Train Them
Making sure your dog is trained and calm in the car is essential for their safety and yours. The less nervous they are, the less likely they are to distract you from driving. 
From a young age, your dog should be exposed to the usual goings-on of a car: what the engine sounds like when it ignites, the slamming of the door, the horn, and climbing in and out.
If you have a rescue or a very excitable/nervous dog that can't control themselves in the car, start with short journeys round the block and reward them every time they settle with a treat and praise. Slowly increase your distance each time until you've got the desired behavior normalized. Be patient though, as this may take several weeks to achieve. Never punish a dog for getting excited/nervous about being in the car - this will just make them scared of you. 
How To Calm A Dog With Car Anxiety
Dogs that don't travel in the car frequently or are nervous travelers can result in being sick or in some cases, having a bout of diarrhea. And, just like their human friends, some canines can get motion sickness. It's more common in younger dogs, whilst their inner ear is still developing - this means they are likely to grow out of it. Some medical conditions, namely ear infections, can also cause car sickness in dogs too. 
If you suspect your dog is going to be sick in the car or they seem stressed (whining, pacing, excessive drooling), pull over and take them on a short walk to relieve them before trying again. 
If you're wondering how to calm a dog with car anxiety, as well as acclimatizing them to car journeys via training as detailed above, there are other things you can do to help your anxious doggo out:
Keep the car at a cool temperature and don't play music
Bring a smell from home with you, like a recently worn tee shirt or jumper of yours, and keep it in the back with them
Keep them secure with their harness to stop them from pacing
Distract them with a brand new toy
Try adding the scent of lavender to your dog's bedding to help calm them.
Try a natural calming aid/supplement from a reputable pet brand to help maintain their emotional balance throughout car journeys. Look for ingredients like chamomile, hemp extract, and valerian root.

 

Discuss with your vet the option of using anti-nausea or anti-anxiety medications for when your dog is traveling, particularly on long journeys
What You Need When Traveling With Your Dog
Whether you're going out in the car for 10 minutes or several hours, always make sure you've got your dog's essentials with you in case you break down or hit traffic:
Their collar, leash, and harness
A blanket/dog bed
Their crate
Toys and treats
Food, water, and feeding bowls
Any grooming items, like a brush, they may need
Any medication they've been prescribed
Never Leave A Dog In A Hot Car
If you need to stop on route, do not be tempted to leave your dog in the car. All year round, interior temperatures of your vehicle can reach life-threatening levels. If a dog gets too hot and they are unable to reduce their body temperature via panting, they will develop heatstroke, which can kill them. 
As you probably know, there have been numerous stories reported of dogs having to be cut out of cars by the emergency services because an owner has neglected to take their dog with them when they've stopped. So, make it a rule for you and your family to never leave your doggo in the car – and remember, cracking a window open will not help moderate the temperature when the car is stationary. 
Sources
"Dog Car Safety Tips" Purina https://www.purina.com/articles/dog/care/dog-car-safety?fbclid=IwAR12H2pD-BoSLggBpHZYM7nbY9BxNWTXZA1DhO2dS-Dd_FMVPOR30IR83-A
Author Hunter, Tammy DVM and Ward, Ernest DVM "Motion Sickness In Dogs" VCA Hospitals https://vcahospitals.com/know-your-pet/motion-sickness-in-dogs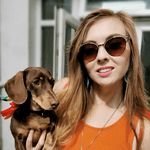 Authored By
Sarah Milton
Comes from a family of animal lovers and got to grow up with a menagerie of pets! I believe owning a pet is a privilege and I love researching and creating informative, fun content for fellow pet owners to help their furry friends have the happiest and healthiest lives. When I'm not writing blogs, you can find me sharing a walk with my pet dachshund or at a yoga class!