How to Make the Perfect Birthday Cake for Your Dog!
August 23, 2020 | 3 min read
Published: June 15, 2020
Updated: January 24, 2023
Summary: In this blog, learn how to make a dog birthday cake and spoil your special pup!  And, there are three dog birthday cake recipes to choose from...
Dogs are special members of any family, so it feels natural to want to make an extra fuss of them over their birthday! 
Whether you're planning a doggie birthday date with their best four-legged pal, exploring a new trail as an extra treat, playing all their favorite games, letting them pick out their own gift or hosting a full dog birthday party extravaganza, no birthday is complete without a cake!
And we have three pup-friendly and safe birthday cake recipes below for you to choose from!
Remember to substitute or choose an alternative recipe if you know your dog, or the person making the cake, is allergic to certain ingredients.
How To Make A Dog Birthday Cake
Peanut Butter & Carrot Cake
Ingredients For This Dog Birthday Cake
3/4 cup melted coconut oil
1 teaspoon vanilla extract
1 cup of honey
3/4 cup peanut butter (xylitol/artificial sweetener free)
2/3 cup shredded carrots
2 whisked eggs
2 cups whole wheat flour
2 teaspoons baking soda
How To Make This Dog Birthday Cake
Preheat your oven to 355℉
Mix the coconut oil, vanilla extract, peanut butter, and eggs in a bowl until at a batter-like consistency
Add to the mixture the flour and baking soda
Grease the cake tin with coconut oil, and pour the mixture in
Cook in the oven for 20 minutes
Leave to cool then decorate your cake with peanut butter and maybe some doggie biscuits!
This cake is guaranteed to be devoured instantaneously!
The Meat Feast Cake
Ingredients For This Dog Birthday Cake
1 pound lean ground beef
1 tablespoon olive oil
1 egg
1/3 cup fresh or frozen peas (reserve some for decoration)
1/4 cup rolled oats
1/4 cup cheese (grated/shredded)
2 large sweet potatoes
How To Make This Dog Birthday Cake
Pre heat your oven to 355℉
Peel and chop the sweet potatoes and boil in water for around 20 minutes
Grease a cake tin with olive oil
Mix all the other ingredients in a bowl. Place your mixture in the greased cake tin
Place in the oven and leave until meat is cooked through (around 40 minutes)
Drain your potatoes and mash them up.
Allow both cake and mash to cool before spooning and shaping the mash on and around the outside of the cake. Use the left over peas or alternative dog-friendly vegetables (shredded carrot perhaps!) to make it even prettier.
 This meat lover's cake is going to be gobbled up immediately, we're sure!
Apple & Cheese Drizzle Muffins
Ingredients For This Dog Birthday Cake
Muffin Ingredients
1 tablespoon olive oil
1 cup whole wheat flour
1 teaspoon baking soda
2 teaspoons cinnamon
1/4 cup dried apple rings, finely diced (no pips!)
2 eggs, beaten
1/2 cup of unsweetened applesauce
1/4 cup "Granny Smith"apple, peeled and finely diced
1/8 cup milk
Drizzle Ingredients
1 teaspoon whole wheat flour
1/4 cup cheddar cheese (grated/shredded)
3 tablespoons milk
How To Make This Dog Birthday Cake
Pre heat your oven to 355℉
Whisk together the cinnamon, baking soda and flour in a bowl
Stir in the dried apple rings to the mixture, feeling free to break them up and ensuring they're fully covered
In a separate bowl, beat the eggs
Add the applesauce, milk and diced "Granny Smith" to the egg bowl
Make a well/hole in the flour mixture and pour in the egg mixture. Stir in until well mixed.
Grease each muffin cup in the tray with the olive oil
Use a teaspoon to scoop balls of mixture into each muffin cup
Place in the oven for 10 minutes
Remove from the oven and leave to cool
Stir together the drizzle flour and milk in a microwavable bowl
Heat through in the microwave for 1 minute
Remove from the microwave and stir in the cheese
Drizzle over the cooled muffins with a teaspoon or pouring jug
One very happy pooch with these, and they'll keep in the refrigerator for up to two weeks! Woof!
Watch Out For These Unsafe Ingredients
When it comes to baking for your dog, you may find yourself getting a bit experimental and try to put your own signature on their cake – that's great! However, common cake ingredients that are incredibly toxic for dogs include cherries, chocolate (particularly dark), cocoa powder, apple pips, grapes, raisins, avocados, coffee, xylitol (artificial sweetener) and macadamia nuts. If your dog consumes any of these, be sure they get to your vet stat as some of these ingredients in large quantities can be lethal.
You may also want to treat your dog to a bone on their special day! Unfortunately, cooked dog bones can be dangerous for dogs to consume, so stick to treating them to their favorite meat and cut it off the bone for them.
Not sure your dog's going to dig a cake? Play it safe and treat them to their favorite treats instead or a popular dental stick. Not only are they satisfying, they can help keep your pooch's oral health in check whilst you're making them feel special!
Nothing says "I love you" more than caring for your four legged friend's health whilst you treat them.
A big happy birthday to your lovely doggo. Enjoy your special day!
Sources
"How To Make A Dog Friendly Birthday Cake" Blue Cross, Apr 18. 2019 https://www.bluecross.org.uk/pet-advice/how-to-make-a-dog-friendly-birthday-cake
Author Vidra, Tim "Dog Birthday Cake Recipe: Basil's 4th" 17 Apart, Aug 13. 2014 https://www.17apart.com/2014/08/dog-birthday-cake-recipe-basils-4th.htML
"Triple Apple Dog Cake Recipe with Cheddar Drizzle" Dog Treat Kitchen http://www.dogtreatkitchen.com/dog-cake-recipe-with-three-apples.html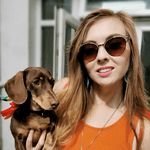 Authored By
Sarah Milton
Comes from a family of animal lovers and got to grow up with a menagerie of pets! I believe owning a pet is a privilege and I love researching and creating informative, fun content for fellow pet owners to help their furry friends have the happiest and healthiest lives. When I'm not writing blogs, you can find me sharing a walk with my pet dachshund or at a yoga class!