5 Things You Need To Know About Dogs
January 18, 2019 | 3 min read
Published: January 18, 2019
Updated: August 2, 2022
Summary: In the blog, we learn 5 key things to know about dogs, particularly the things to know before getting a dog...
If you've been a pet parent for a while, you may think you know everything there is to know about caring for your pooch. For new owners, you may be trying to learn as much as you can alongside caring for your new furry friend!
We've put together a little list of 5 key things you really should know when it comes to keeping your doggo safe, healthy, and happy.
You Need To Train Them
Whether you have a puppy or an older dog, the commands of "sit", "stay", "no" and "down" are imperative for you both in terms of ease and safety. It's always best to train your pup young, but there's never a bad time to start! Dogs are smart at any age, and despite the saying, you can teach an old dog new tricks…
You Need To Know How To Walk Safely In The Dark
One thing to know about dogs is that throughout fall and winter, daily walks may often occur in the dark dependent on where you live on the continent. If this is the case for you and your pooch, this means you need to be extra cautious.
First things first, make sure you're both visible! For your pet, you can get flashing accessories, like a light-up collar or a reflective harness so your dog can always be spotted. You should also wear some reflective clothing, too like stripes on your leggings or attachments on your bag. Always take a flashlight too!
It's best to keep your dog on the leash for most of your night-time walk, especially when you're near traffic or other people. And try not to take new or unfamiliar roots in the dark. You may get lost, or your pooch may get scared.
Some Human Foods Are Toxic To Them!
Some of the most popular online searches are questions like "Are oranges safe for dogs?", "Can I give my dog banana?", "Is sugar bad for dogs?" and so on.
To save you time and confusion, the team at PetLab Co. have put together a handy list of all foods that are toxic for dogs. These are all the known foods that dogs can't eat, and this list is an essential thing to know before getting a dog, so make yourself familiar:
PetLab Co. Pro Tip: Right-click and save this image to your computer, print it off, and stick it to your fridge! Then you can refer to it always when a certain someone is giving you those puppy dog eyes.
They Need Extra Support When Traveling
Traveling can be tricky for some dogs, especially if they deal with occasional anxiousness caused by the environment. But, the following tips should make traveling with your pup more manageable and fun and is definitely something to know about dogs:
Their first trip in a car
Make sure that the first few trips in the car are a fun adventure so that they associate car travels with something positive! Drive them somewhere for a long walk and remember to bring treats along for good behavior in the car, too.
Taking long car rides
A crate is the safest way to drive with your dog. Try and get your dog familiar with the crate by bringing it into the house and allowing them to associate it with something positive. Leave a nice treat in there and award them with lots of praise when they use the crate out of choice.
Exercise them prior to your trip
It's always a good idea to take your dog for a really long walk before a car journey so that they're tired out! This means they're more likely to relax on the car journey.
Organize your feeding schedule in advance
Try to avoid feeding your dog right before the car ride to prevent them from needing the toilet too much throughout the journey, and to reduce symptoms of motion sickness. Although you should make regular stops en route so they can stretch their legs and relieve themselves.
Pack the essentials
Water, toys, a friendly smelling blanket in their crate, and healthy, lean treats for good behavior!
You Need To Know How To Handle An Emergency
Know where the vet is
This is a very important thing to know about dogs and caring for them properly. Wherever you are, it's always good to know where the nearest 24 hours vets is and have your pet's insurance details on you/accessible to you.  It's always advisable to microchip your dog and include the essential contact information (phone number, address, etc) on their collar's ID tag.
PetLab Co Pro Tip: Sometimes, when you're buying from a breeder, they may have already chipped your new pup before, so you will need to ask them to re-register your new puppy to you.
Carry dog-friendly gauze and non-stick bandages
Purchasing and carrying dog-friendly bandages are useful in case of any cuts and other wounds, particularly if you and your pooch like to hike across uneven and unfamiliar terrain. This way you can support them if they get hurt before you manage to get them seen to by a vet.
Consider a GPS tracker
If your dog has a tendency to run off (but really even if they don't!) make sure you can find where they are! A tractive GPS dog tracker can be very easy to use and can sync directly to your cell phone.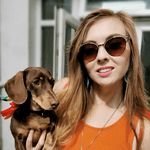 Authored By
Sarah Milton
Comes from a family of animal lovers and got to grow up with a menagerie of pets! I believe owning a pet is a privilege and I love researching and creating informative, fun content for fellow pet owners to help their furry friends have the happiest and healthiest lives. When I'm not writing blogs, you can find me sharing a walk with my pet dachshund or at a yoga class!