Do Dogs Smile?
October 20, 2022 | 3 min read
Published: October 24, 2022
Updated: May 11, 2023
Summary: Can dogs smile? In this blog, we learn whether dog smiling is possible and the potential reasons behind a dog smile here... 
Do Dogs Smile?
Technically, yes a dog can appear as if they're smiling. But really the question should be do dogs smile for the same reasons we do? Is a dog smiling indicative of their true happiness? 
When our pups are wide-mouthed and are hanging their tongue out – the infamous dog smile – they typically are at their happiest because this is a pretty relaxed state for a dog to be in. They may be out enjoying a stroll with you or be playing Fetch! with you or you may have just arrived home and accompanying their smile is a wagging tail too!  
Dog Smiling
Another thing to factor in is positive reinforcement. When a dog looks like they're smiling, humans typically react in an excitable, happy way about it, so the dog learns that they get praise and attention when they adopt this facial expression too. They also may display a dog smile to cheer you up too, as they may have learned it makes you happy and most dogs love nothing more than pleasing their owner. Another reason they may relax their face into a smiling stance is because they're being submissive.  
They may also just be trying to mimic your facial expression because they've "caught" it off of you - the same way we humans catch laughter off one another! This phenomenon is referred to as "laughter contagion".  
So, with that said, a better indicator of a dog's actual happiness is their body language. Are they relaxed and calm in their demeanor and body posture? Is their tail wagging side to side? This is a true indication of a happy dog!
Most dogs are pretty obvious when they're excited, happy or content, but remember - just because your dog isn't "smiling", this doesn't equate to their unhappiness.
Sources
Author Mitchell, Sandra DVM DABVP "Do Dogs Smile? If So, Why?" Pet MD, Nov 29. 2021 https://www.petmd.com/dog/behavior/do-dogs-smile-science-behind-looks-we-get-happy-dog  
"Can Dogs Laugh & Smile?" Purina https://www.purina.co.uk/articles/dogs/behaviour/common-questions/can-dogs-laugh-or-smile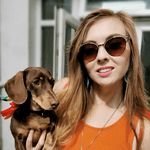 Authored By
Sarah Milton
Comes from a family of animal lovers and got to grow up with a menagerie of pets! I believe owning a pet is a privilege and I love researching and creating informative, fun content for fellow pet owners to help their furry friends have the happiest and healthiest lives. When I'm not writing blogs, you can find me sharing a walk with my pet dachshund or at a yoga class!