Why Do Dogs Sigh?
March 29, 2023 | 3 min read
Published: March 29, 2023

Summary: "Why does my dog sigh?" In this article, learn what it means why a dog sighs and a whether dog sighing should be something of concern... 
Can Dogs Sigh?
Sighing; a natural bodily function that takes its form as a louder-than-normal, deep and long breath. Sighs also help stretch out the lungs. Many animals – including humans and dogs – can and do sigh.  
When we humans sigh, it can mean anything from fatigue, an attempt to relax, disappointment, frustration, all the way to happiness! But what does it mean when Fido sighs through their nose? Do they have the same emotional range as we do when it comes to sighing...? 
Why Does My Dog Sigh?
Just like humans, it's thought that dog sighing can be associated with both negative and positive emotions dogs experience. It's thought that the eyes play a role in indicating what's what when it comes to a dog's sigh too: 
Half-closed eyes + sigh; happiness 
Full open eyes + sigh; disappointment 
It's a good idea to watch out for all accompanying body language with your dog's sigh. If they seem distressed or tired, and then they sigh then the sigh is probably in line with what their body is displaying overall. You can read more about reading dog body language in this blog here.  
If they do seem a bit fed up and you hear them sigh, a quick bit of fuss is all that's usually needed to set them right again! 
Sources
Author Ollila, Erin "Why Does My Dog Sigh?" Hill's Pet, Jul 28. 2022 https://www.hillspet.com/dog-care/behavior-appearance/why-do-dogs-sigh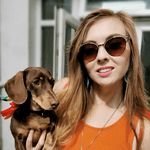 Authored By
Sarah Milton
Comes from a family of animal lovers and got to grow up with a menagerie of pets! I believe owning a pet is a privilege and I love researching and creating informative, fun content for fellow pet owners to help their furry friends have the happiest and healthiest lives. When I'm not writing blogs, you can find me sharing a walk with my pet dachshund or at a yoga class!