Dog Walks: How To Get The Most Out Of Them
June 09, 2022 | 3 min read
Published: June 9, 2022
Updated: May 12, 2023
Summary: How often do you walk your dog? Every day, right? If you're looking for some dog walking tips to shake your's and your dog's daily routine up a bit, look no further than this blog. It's time to make your dog walks exciting again, for both you and your pooch…

Yes, dogs are creatures of habit and they do enjoy, and thrive off of, routine. Keeping to the same routes on their walks can be particularly comforting to dogs, particularly senior ones who will appreciate the familiarity of the smells and textures as they begin to slow down in themselves. However, this can be a little plain for their human companions if a dog isn't needing a senior-tailored walk…
So, how can you make dog walks feel a little bit more exciting for both you and your pooch? 
Dog Walking Tips
Mix Up The Route
If your choice of walks during the week is limited where you live, simply try reversing your route or walking on different sides of the road to help them encounter new smells and new things to look at and explore. You can also allow your dog to lead the route sometimes to help give them some fresher mental stimulation on their walk too. 
Try to mix up which walks you take at weekends to help diversify theirs and your walking experience even more! Consider hopping in the car or on public transport to find somewhere new to take a little adventure together. 
PetLab Co. Pro Tip: You could try circling, retracting your footsteps, or even zigzagging for short bursts of distance to mix up what you're doing with your dog on their daily walks too!

Mix Up Who Walks With The Dog
If the same person in your household walks your dog each day, try and mix up who's doing it as this will already change the dynamic of the walk for your dog. Live alone? Try to find a friend who you can walk with some of the days (whether they have a dog or not!). You can always use platforms like Facebook to find people in a similar position who are also looking to socialize their pets and meet new people too!
There also may be dog groups and dog meet-ups hosted locally, so this might also be worth investigating!
Change Of Pace
During your walk, try intermittently jogging or playing with the speed at which you walk your pooch. This will help them burn energy in different ways and keep them on their toes, making the walk automatically more interesting!
Practise Training
Even if your dog is trained, practicing their learned commands whilst out on a walk is mentally stimulating and rewarding for your dog. It also enhances your bond. Trick training them whilst out and about (this could be anything from a simple "sit", "fetch" or even a "spin around"!), and bringing them healthy treat reinforcements for praise can promote your dog's positive experience of walking and get them excited for their next outing with you!
PetLab Co. Pro Tip: Make sure you don't overdo it on the treats though! Too many will negate the health benefits of exercise. A dog's treat allowance should only ever be a maximum of 10% of their daily food intake!
Does your dog pull on the leash when out on walks? Read our blog on How To Stop A Dog Pulling On The Leash here. 
Get Silly
Put the phone down and work emails away and take some time to play with your dog on their walk. Sing to them, talk to them, dance with them! Interact with them whilst you're out on your daily strolls! Consciously try to make the walk a happy, quality experience - this is great for your mental health as well as theirs!
Bring A Toy With You
Tug-O-War and Fetch! Don't just have to be inside games. If your dog is good off the lead and you walk in a safe, enclosed area, it can be pretty boring for you to just let them go off roaming around and smelling what they like. Recall them every so often and encourage them to engage with the toy you've brought with you for short bursts intermittently throughout the walk. This can help keep things interesting and boost the bond between you both too! Your dog may end up staying closer to you on your walks, as they begin to hope the fun toy may come out again…
PetLab Co. Pro Tip: It may be tempting to use a ball-launcher on every walk, but again mix this up! Sometimes shorter, arm-thrown ball flings can be a different experience for your dog. Don't encourage your dog to chase after sticks though… Sticks can actually cause damage to their mouth and teeth!
Hide And Seek
A game of Hide & Seek while you're out walking can provide extra, exciting stimulation to your walks. If your pup is off the lead, while they are investigating something with their nose, duck behind a tree or a bush. Wait for a moment… (But, make sure you can definitely still see them throughout this game so you can be sure of their safety and help relieve their panic if they think they've lost you). Call out their name and encourage them to find you! Once they locate you, shower them with praise and offer them a tasty, healthy doggy treat. Not only can this game be fun for you both, it can also generally improve their overall recall!
How Often Do You Walk Your Dog?
Did you know that your dog requires specific amounts/styles of exercise depending on their size, weight, and breed? Check out our handy guide below, but if you have any specific questions regarding your pooch, do consult with your veterinarian.
Dog walks are super important for your dog - it helps maintain their weight, burn energy, promote blood circulation and increase your bond. And, the same goes for a human! A study from Michigan State University found that if you own a dog, you're 34% more likely to get your recommended exercise amount per week when compared to those that don't own a dog. 
So, keep up with their daily walking routine as the benefits are high for both you and your pet, but try using the tips detailed in this blog to keep it from becoming a chore! Happy dog walking!
Sources
Author Coates, Jennifer DVM "8 Way To Shake Up Your Dog Walking Routine" Pet MD, Dec 12. 2018 https://www.petmd.com/dog/care/8-ways-shake-your-dog-walking-routine
"10 Things To Do On Your Dog Walks" Your Dog https://www.yourdog.co.uk/dog-care-and-advice/walking-your-dog-1/10-things-to-do-on-your-dog-walks/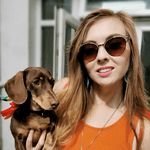 Authored By
Sarah Milton
Comes from a family of animal lovers and got to grow up with a menagerie of pets! I believe owning a pet is a privilege and I love researching and creating informative, fun content for fellow pet owners to help their furry friends have the happiest and healthiest lives. When I'm not writing blogs, you can find me sharing a walk with my pet dachshund or at a yoga class!